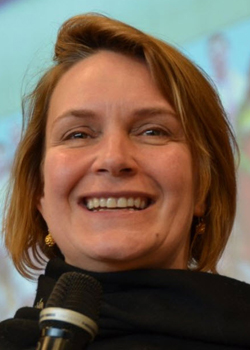 Ana Cutter Patel, Executive Director, Outward Bound Center for Peacebuilding
As the Executive Director, Ana leads the organization's work to use active learning to challenge and inspire leaders to build peace together. This approach is called experiential peacebuilding, which connects experiential learning or "learning by doing and reflecting," with peacebuilding practice. Over 2,000 individuals have participated in Outward Bound Peacebuilding's programs, trainings and workshops across the globe.
Ana brings over 25 years of experience in international peacebuilding, development and human rights to this work. Her background spans from building a gravity water system as a U.S. Peace Corps Volunteer in the Dominican Republic; to teaching international conflict issues at Columbia University; to training governments and civil society organizations on issues related to human rights and the demobilization of combatants.   Her co-edited volume, Disarming the Past: Transitional Justice and Ex-combatants was published in January 2010. Ana graduated from Lewis & Clark College in Portland, Oregon and received a Master's of International Affairs from the School of International and Public Affairs at Columbia University. Ana is a Rotary International Peace Fellow and a 2016 Visionary of the Hearts on Fire Foundation. In April 2017, she was named a Global Peace Index Ambassador by the Institute of Economics and Peace.  Ana is also an adjunct lecturer at the Center for Global Affairs at New York University.