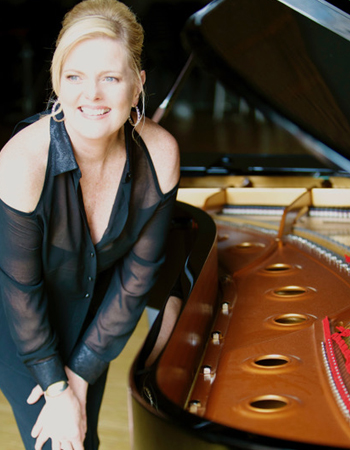 Internationally acclaimed vocalist/pianist Carol Welsman is a 6-time Juno Award Nominee (Canadian Grammy).  Carol has 12 albums to her credit. Her 2016 solo piano/vocal album "FOR YOU" was the #1 selling album at retail in Japan for 6 months following its release, and it reached number 4 on the jazz charts. Volume 2, This is Carol – Jazz Beauties, a trio album, was released March 22, 2019 in Japan and is receiving rave reviews.
Welsman is the granddaughter of Frank Welsman, founder and first conductor of the Toronto Symphony Orchestra. Her album "I LIKE MEN- Reflections of Miss Peggy Lee", was voted Top 5 album of the year in USA Today (all genres) in 2010. Carol has performed for such luminaries as Stevie Wonder, Gordon Lightfoot, Herbie Hancock (duet) and President Bill Clinton.  She speaks English, French, Spanish and Italian fluently and also records in these languages.   
Carol has toured the world performing from trio to big band to Pops symphony orchestra concerts, captivating audiences and receiving standing ovations.  She has enjoyed much of her career success in Japan and Canada. A "Distinguished Alumnus" of Berklee College of Music, Carol is also a prolific song-writer and her songs have been recorded by such artists as Celine Dion, Ray Charles and Chrissy Hinde.
"At a time when female jazz singers have been arriving in waves, she is that rarity – an authentic vocal/instrumental artist who brings an irresistible blend of musicality and lyrical insight to everything she touches."    Don Heckman, L.A. Times
Christine Stevens holds master's degrees in both social work and music therapy. She is author of Music Medicine, and The Healing Drum Program. The founder of UpBeat Drum Circles, Christine has worked with Fortune 500 companies, survivors of Katrina, students at Ground Zero and most recently, led the first drum circle training in a war-zone in northern Iraq.  She has been featured at the Yosemite Peace Summit, The Power Of Peace with Barbara Gullen-Miller and the Rotary Peace E-club. She is also a member of the international organization Musical Ambassador of Peace.