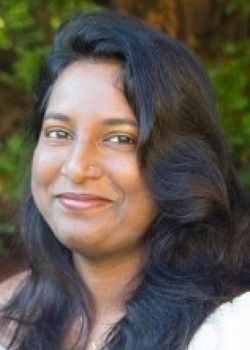 Asha Asokan, India Duke University – Master in International Development Policy
Asha Asokan is a human rights specialist with a special focus on child protection in armed conflict. Asha holds a Bachelor's in Law and a Master's degree in International Human Rights Law, from India.
In 2006, Asha started her career as a lawyer in the High Court of Kerala, India. Later in 2010, she relocated herself to Sudan and worked as a contractor for the UN Peacekeeping Mission in Sudan. In 2012, she moved to South Sudan and worked with Nonviolent Peaceforce (NP), an INGO working for the protection of civilians in conflict-affected countries. While working with NP, she supported many communities in South Sudan by averting conflict between the communities. During her two and half year tenure with NP, Asha engaged with different stakeholders at the national and local level to prevent and reconcile conflicts in South Sudan, thereby supporting peace in the country. She was also involved in the establishment and capacity building of community-based women's groups who were empowered to be involved in South Sudan's peace process.
Before becoming a Rotary Peace Fellow, she served with the United Nations Peacekeeping Mission in South Sudan as a child protection specialist. In this capacity, she was actively involved in the identification, release, and reintegration of children associated with armed forces and groups in South Sudan. Along with other child protection actors, she advocated and negotiated with armed forces and groups to stop child recruitment and other grave child rights violations in South Sudan.
In tune with Security Council Resolution 2250 (2015) regarding youth participation in peace processes and dispute resolution, Asha will be utilizing the knowledge and skills that she gains from the Rotary Peace Centre, on policy-making and in implementing projects on the participation of youth, especially young woman, for global peace, conflict resolution, and development of nations affected by conflict.