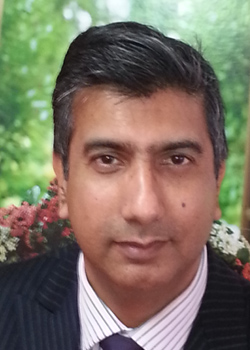 Mohammed Ayyaz is an accomplished facilitator and community development worker, specialising in partnership working and building community networks.  He has over 20 years of experience in East London (United Kingdom) in project management of local action plans and regeneration programmes.  He has a well-developed relationship and lobbying practice, establishing trust and working with voluntary groups and community forums, committed to encouraging diversity and the ideals of social inclusion and equality.
His passion is community cohesion and interfaith dialogue; and solution planning with reference to the Indo-Pakistani relations.  He enjoys acting as a community catalyst, encouraging bridge making, paradigm shifting and problem-solving mindsets. 
As a Rotarian for over 8 years, he has progressed to the role of an Assistant Governor for London District 1130.  He joined the Indus Peace Park Steering Committee and took the lead responsibility for organising the global project launch in the British Houses of Parliament on March 4, 2019.  He used his creative negotiation skills to ensure the attendance and participation of prominent South Asian leaders.  This took the form of Lords, Members of Parliament, London borough mayors, and community and faith representatives who all came together to make a united stand for peaceful coexistence between India and Pakistan.