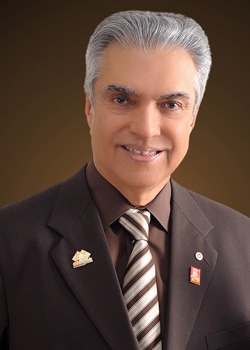 Member, Rotary International PolioPlus Committee
Chair, Rotary International PolioPlus National Committee for Pakistan
Advisor Endowment & Major Gifts for Zone 6B
Health Major Gifts Initiative Committee Member
Member, Arch Klumph Society (AKS)
Acceptance of every human being for plainly just being another human, ignoring and abolishing biased social views, prejudice, and racism in the process. Being a humanitarian is being able to recognize humanity amongst all of us, once we accept all humans have same equal desires and basic needs, the work itself is just a natural extension. It is of utmost importance that one should always respect and recognize human dignity and then conduct humanitarian work which focuses on human dignity.
Some 25 years back I found Rotary. When asked why I chosen this role, my reply was "because working for humanity is universal, it holds no boundaries, no cultures and no religion; it brings me closer to people who are also involved in the same field and gives me great pleasure to work with them."
Aziz has lead Rotary's polio eradication efforts in Pakistan for the past several years, has worked closely with partners and stakeholders, including WHO, UNICEF, the Expanded Program on Immunization (EPI), government officials, religious scholars, celebrities, and corporate executives from multinational companies and Rotarians from around the world.
Recipient of:
President of Pakistan Pride of Performance Award

Recognition by USA Congressman Hon. Daniel M. Donovan, JR.

Louis Pasteur Medal by Pasteur Institute, France

Service Above Self Award

International Service Award for Polio-Free World

Regional Service Award for Polio-Free World

Distinguished Service Award

Rotary Foundation Citation for Meritorious Service
Aziz Memon is Chairman of the Kings Group, a conglomerate of five companies and one of the leading manufacturing and exporting groups in Pakistan. He is Chairman of Board of Directors of the "Karachi Garment City Company", a project of the Government of Pakistan. Aziz Memon is also Honorary Consul General of Republic of Suriname. He is President of "United Memon Jamat of Pakistan" and President of "English Speaking Union". Aziz Memon is married to Prof. Samina Aziz, she is Professor of Anesthesiology at Aga Khan University Hospital.