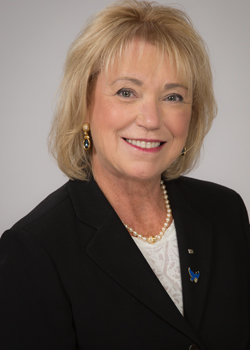 Brenda Cressey Rotary Club Paso Robles, Calif. Brenda Marie Cressey is currently serving a four year term as Trustee of The Rotary Foundation, she currently serves as the Trustee Vice Chair. 
She has recently retired her position as the CEO of Office Support Systems, a telecommunications business in Maine. 
Brenda has served in many volunteer capacities with civic organizations such as the American Cancer Society. A Rotarian since 1989, Cressey has served as a regional membership and foundation coordinator and RRFC training institute moderator, an Endowment Major Gift adviser, Council on Legislation representative, RI president's representative, 2012 International Assembly executive committee and partner moderator, RI training leader, and district governor. Cressey is a recipient of Rotary's Service Above Self Award and The Rotary Foundation's Citation for Meritorious Service and Distinguished Service Award. Brenda and her husband, Dick, are Major Donors, Bequest and Paul Harris society members, and recent inductees of the Arch Klumph Society. They are proud supporter of the Peace Centers and have endowed a Peace Certificate Fellow in their names in perpetuity.