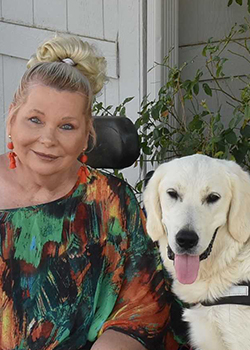 Disabled by polio as a child, Carol is uniquely qualified as a trainer and a client. She understands, first hand, what a service dog can do and what they mean to our clients. Carol leads a small yet dedicated staff and an army of volunteers to provide skilled service dogs to those in need. She regularly marshals the energy, resources and people required to carry out the CST mission with empathy and passion.
Following her childhood polio diagnosis, Carol endured hundreds of hours of physical therapy. By the time she was sixteen, she was able to function as a paraplegic, getting around well with a manual wheelchair.
A dog-lover since childhood, Carol always enjoyed the companionship of dogs. While managing the fulltime responsibilities of being wife and mother, she turned her passion for dogs into a profession as a dog trainer. She began holding classes and offering training for basic obedience and self-protection.
In her mid-30s, Carol began to experience shoulder and neck pain associated with PPS. She made the transition from a manual- to a power-wheelchair. This prompted her to seek the help of a specially trained service dog. After an unsuccessful first placement, Carol received a black lab named ARIES. While well-trained in obedience, ARIES lacked the specific skills needed to assist Carol. She determined to train him herself, and ARIES became a great first service dog experience. It wasn't long until others began seeking her out.
The abundance of requests and her commitment to dog training led to the formation of the nonprofit organization called Canine Support Teams. "Those of us with physical challenges don't want to be completely dependent on others; we want to do for ourselves as much as possible. It's extremely important for us to have some independence and be accepted no matter what we look like. No matter how twisted our bodies, or our ability to speak and communicate, dogs will love us anyway."
Despite personal tragedy, physical limitations and even professional opposition, Carol has remained steadfast and unwavering in her mission. She has been honored at the local, state and national levels for her contributions to the community. She has advanced the standards of the service dog industry and is an advocate for disabled persons with service dogs. Her innovative dog training program within correctional facilities has served as a model for dozens of other programs across the country. The success stories and testimonials are strong validation of value of the program as it has impacted hundreds of inmates since its inception.
Carol has been at the helm of CST from the beginning and remains closely involved with the daily operations of the organization. She personally interviews applicants, participates in the Prison Pups Program and Team Trainings, provides Client Care, and serves as Ambassador to the communities we serve. With 30 years behind her, Carol remains the heart of the CST mission and drives the vision for the next 30 years. She has made an indelible difference through the hundreds of service dogs she has provided for people living with disabilities.