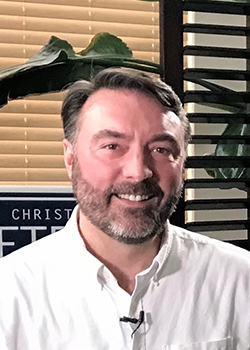 Christopher Peters
State Coordinator for Better Angels in Iowa
Dr. Peters is an Army Medical Corps veteran, surgeon, and business owner in Iowa. He was born and raised in Kansas, attended the University of Kansas for college and medical school, then did residencies in general surgery at Tripler Army Medical Center in Hawaii, and thoracic surgery at the University of Oklahoma.
He met his wife, Julie, while stationed in Hawaii, and they have been married for 25 years. Chris and Julie have three adult sons, Cole, Jake, and Caleb, and as of last year, one grandson, Liam. The Peters family moved to Iowa, Julie's home state, in 2004, where they have resided since.
Dr. Peters is a two-time U.S. House of Representatives candidate, and now serves as the volunteer state coordinator for Better Angels in Iowa. Better Angels has grown quickly in Iowa, due in part to our "First-in-the-Nation" caucus state status, and also because "Iowa Nice" is a really a thing. Iowans tend to be politically attuned, but also value cordiality, and Better Angels offers a healthier option than our current divisive politics.
Given the rapid growth of Better Angels in Iowa, Dr. Peters launched the first-of-its-kind Iowa Outreach Project, which allows donations raised locally to hire staff who are assisting in this effort. With staff and volunteers, he recently launched a new website for Better Angels Iowa, while also remaining active on Facebook and other social media.
Dr. Peters is also a member of the Iowa City Noon Rotary, and has given multiple presentations on Better Angels to area Rotary clubs, which have been very well received. He highlights the May 2019 issue of The Rotarian, which featured an article on Better Angels, Putting Civility back into Public Discourse. He has enlisted area Rotary clubs to co-sponsor local Better Angels events, to include Better Angels Workshops and public screenings of the Better Angels: Reuniting America documentary.
He believes strongly that Better Angels and Rotary share many commonalities, as exemplified in the Rotary Four-Way Test, emphasizing Truth, Fairness, and Beneficence.