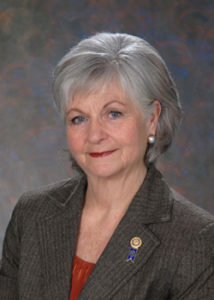 Dean Rohrs, her husband Rhino and their 3 children emigrated to Canada from South Africa 29 years ago.  Dean grew up in Zambia and after marrying Rhino lived in Malawi, Namibia and South Africa.  Dean was born into a Rotary family and when Rhino joined Rotary in 1986 became an active Rotary Ann until she joined Rotary in 1989.  On arriving in Vancouver both Dean and Rhino joined the Rotary Club of West Vancouver and at present are members of the Rotary Club of Langley Central in District 5050.
Dean has had a varied career from the early days of being an Operating Room Nurse on Professor Christiaan Barnard's first heart transplant team to running a Nursery School in Malawi.  Together with Rhino they now owner manage a company that is involved in soil stabilization during road construction.
Dean has served on District and Zone committees; which include:
Regional Rotary Coordinator and Regional Rotary Foundation Coordinator, Pacific Northwest PETS Chair, District Governor in 2007/2008 and Rotary International Director 2016-2018, Rotary International Vice- President 2017-2018.
However, her best experience is leading teams of Rotarians, Rotaractors and Interactors to Africa and seeing how this volunteer experience changes their lives.