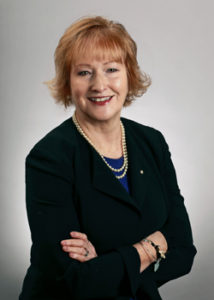 Julia D. Phelps, Ed.D.
Trustee, The Rotary Foundation
2017 – 2020


Julia joined the Rotary Club of Amesbury, MA in 1997 and served as president of the club in 2001-02.  She was very active in the Rotary Youth Leadership Awards (RYLA) program and hosted several Ambassadorial Scholars.  After serving as president, she was asked to train incoming presidents at NE Presidents-elect Training Seminar (PETS).  Julia served as a host counselor for a Youth Exchange.
She has served in several positions at the district level.  She worked on RYLA, served as Inbound Chair for Ambassadorial Scholars and was District Governor of District 7930 in 2007-2008.  She was the District's Annual Giving Chair and the Chair for NE PETS.  Julia became District 7930's Foundation Chair in July 2009 and led the district through the Future Vision Pilot.  She shared Future Vision insights at the New Orleans, Louisiana and Lisbon, Portugal International Conventions.
Julia has served as a Presidents Representative and the Rotary Foundation Alumni Chair (RFAC) for Zone 32.  Julia prepared governors-elect on the Foundation's new grant model at the International Assembly in 2012 and 2013.  She served as International Director from 2014 – 2016 and in 2016 – 2017 was a member of the Operations Review Committee.  In 2017, Julia was appointed as a Trustee of our Rotary Foundation and is currently serving on the Foundation's Stewardship Committee and Executive Committee. She's also a member of RI's Membership Committee and the Trustee Liaison to the Leadership Development and Training Committee.
Julia is the recipient of the Foundation's Citation for Meritorious Service.  Steve McKenzie, her husband, and Julia are Majors Donors and charter members of the Bequest Society.  She is also a Paul Harris Society member. 
She's retired from the Massachusetts Department of Education where she served as the Associate Commissioner for Curriculum and Instruction.  She and Steve, live in Greenland, New Hampshire, USA.  Steve is the proud father of two children, Melissa and Stephen.  Steve and Julia are also the grandparents to Peyton, Zeth, River, Finn and Nate.  All of their family members are Paul Harris Fellows.