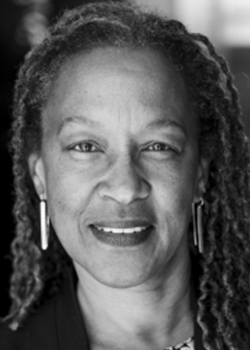 Lecia Brooks is the chief workplace transformation officer for the SPLC, where she serves both the SPLC's leadership and the staff to build a workplace culture of inclusiveness and ensure a sustainable infrastructure that supports the SPLC's ongoing focus on diversity and equity.
Brooks previously served as the SPLC's outreach director, where she traveled across the U.S. and abroad to counter hate and extremism and to promote the celebration of difference. She now continues to give talks about the Center's and DEI principles more broadly. She also served as director of the SPLC's Civil Rights Memorial Center, an interpretive center designed to provide visitors to the Civil Rights Memorial with a deeper understanding of the civil rights movement. She joined the SPLC in 2004, revitalizing the Teaching Tolerance "Mix It Up at Lunch Day" program, which strives to break down racial, cultural, and social barriers in schools. Brooks also served as a co-producer for Teaching Tolerance's documentary film, Bullied: A Student, A School and a Case that Made History.
Brooks has a wealth of experience in diversity advocacy training for corporations and nonprofit organizations, including Walmart, Lyft, Pixar, the Salzburg Seminar, and the Newark Public Library. She has a degree in political science from Loyola Marymount University.