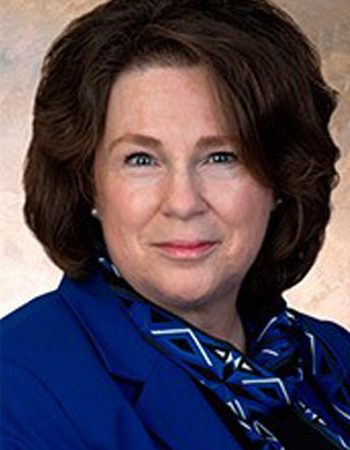 Ambassador (ret.) Mary Ann Peters, Chief Executive Officer, The Carter Center
Ambassador (ret.) Mary Ann Peters joined The Carter Center as its chief executive officer Sept. 2, 2014. As CEO, Ambassador Peters provides vision and leadership for The Carter Center and oversees all program implementation and operations.
Ambassador Peters was provost of the U.S. Naval War College from September 2008 to July 2014. Previously, she was dean of academics at the College of International and Security Studies at the George C. Marshall European Center for Security Studies in Garmisch-Partenkirchen, Germany. Prior to becoming dean of the college, she served as associate director for international liaison at the Marshall Center.
Ambassador Peters spent more than 30 years as a career diplomat with the U.S. Department of State. From 2000 to 2003, she was U.S. Ambassador to Bangladesh, leading the mission's efforts in support of the war on terrorism and other key U.S. foreign policy goals. She received a Presidential Meritorious Service Award in 2003 for her work there. Prior to her posting in Dhaka, Ambassador Peters was the deputy chief of mission at the U.S. Embassy in Ottawa, Canada, responsible for the management of the embassy and supervision of the six U.S. consulates general in Canada. From 1995 to 1997, Ambassador Peters served in the White House as director for European and Canadian affairs at the National Security Council. Among other portfolios in this position, Ambassador Peters worked on the diplomatic and security aspects of the search for peace in Northern Ireland.
Previously Ambassador Peters served as deputy assistant secretary of state with oversight responsibility for U.S. relations with 19 Western European countries and Canada, as deputy chief of mission in Sofia, Bulgaria, as economic counselor in Moscow during the Soviet era, and as the last U.S. consul in Mandalay, Burma. From 1988 to 1990, Ambassador Peters was the deputy director of the Office of Pakistan, Afghanistan, and Bangladesh Affairs in the State Department. She began her career as a vice-consul in Frankfurt, Germany, in 1975.
Ambassador Peters holds a Bachelor of Arts from Santa Clara University and a master's degree in International Studies from the Johns Hopkins School of Advanced International Studies. Her formal education also included courses at the Institut d'Etudes Politiques in Paris.
Ambassador Peters is a member of the Council on Foreign Relations and Women in International Security.