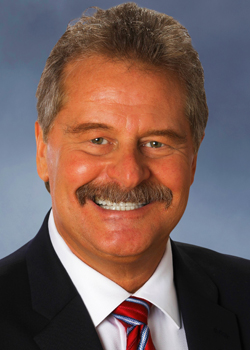 Michael J. Gallo began his professional career in 1980 as a United States Air Force Officer stationed at the former Norton Air Force Base in San Bernardino, California.  Following his military service, Mike joined TRW Ballistic Missiles Division to support the USAF in the development and deployment of the Peacekeeper and Small ICBM Weapon Systems.  In 1993, Mike co-founded Kelly Space & Technology, Inc., celebrating over 24 years in business, conducting aerospace research, development and testing at the former Norton Air Force Base. 
In 2010, Mike founded Technical Employment Training, Inc., a non-profit business and education partnership, providing intensive skills training where students earn national industry certifications and are placed into high-demand careers with local employers.  In 2012, Mike was appointed by Governor Brown to the California Workforce Development Board where he serves as Chairman of the Career Pathways and Education Committee and member of the Executive Board. 
In November 2015, Mike was re-elected to the San Bernardino City Unified School District Board of Education for a second term, serving as Vice President then President for the previous four years, focused on strengthening our schools to inspire, engage and prepare students for success in college and careers. 
For over 30 years, Mike has served in top leadership roles for many local business, education, non-profit and community based organizations.   Mike is the architect of the "Launch Initiative" funded by the James Irvine Foundation to create a trajectory from dependency to prosperity for families as a core economic development strategy.  Mike remains focused on innovation, technology development and aligning Education, Workforce Investment and Economic Development as the passport to prosperity for our communities.