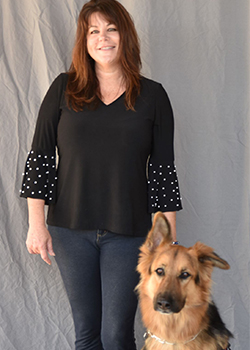 Shara Butterworth, Director of Training
Shara is head of our entire training program with 25 years of experience in dog training and canine behavior.

In her career, she has trained thousands of dogs, specializing in "clicker training" and "Operant Conditioning". Shara's work experience includes training dogs for film and television, as well as pet dog training and service dog training. She has appeared in the documentary "If Given a Chance" On "Cell Dogs", was a guest on "Dog Dish Radio ", was acknowledged in the book " Animals with Jobs" by Judith Janda Presnall, and has presented and demonstrated service dogs at several conferences and pet expos.

Shara loves working with the Inmate Trainers in the Prison Pups Program, equipping them with skills that will help them be contributing members to society once they are released. Also, creating the service dog "teams" as clients learn how to handle their new service dogs and gain greater independence with them.