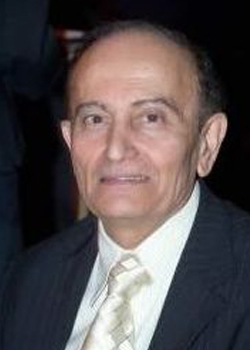 Vijay Mehta is an author and peace activist. He is Chair of Uniting for Peace and founding Trustee of Fortune Forum Charity. His notable books include 'The Economics of Killing' (Pluto Press, 2012) and 'Peace Beyond Borders' (New Internationalist, 2016). His current book is 'How Not To Go To War' (New Internationalist, 2019)
The Sunday Times described him as a "longstanding activist for peace, development, human rights and the environment, who along with his daughter Renu Mehta has set a precedent for striving to change the world" (The Sunday Times, February 01, 2009).
In 2014, Vijay Mehta's bio "The Audacity of Dreams" appeared in the book form "Karma Kurry" published by Jaico Publishing House, India with a foreword to the book by Nelson Mandela.
 "Thank you for all you do Vijay – both the organisation Uniting for Peace and yourself are inspiration and give us all hope that both yourself and the organisation can bring a world without a war. Indeed it is possible, even in our own time." – Mairead Corrigan Maguire, Nobel Peace Laureate 1976
"Vijay Mehta proposes in his book How Not To Go To War that in countries and communities, in governments, private institutions and media, Peace Departments and Peace Centres be established to report on and promote peace." – Jose Ramos-Horta, Nobel Peace Laureate 1996 and Former President of Timor-Liste
"I'm happy to give my support to Ministry for Peace whose responsibility would include being a consistent voice for non-violent means of settling disputes" – His Holiness the Dalai Lama, Nobel Peace Laureate 1989
In 2017, Vijay Mehta's article, 'Reforming the UN for the 21st Century' was included in the anthology 'Approaches to Peace' edited by Prof. David P. Barash published by Oxford University Press, New York. The anthology feature classic and contemporary selection of work on peace which included Leo Tolstoy, Martin Luther King Jr., Pope Francis, Dalai Lama, Desmond Tutu and Noam Chomsky among others.